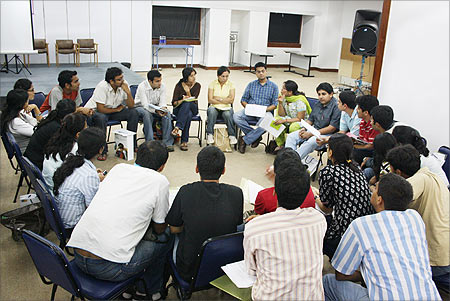 Join the VSL group of dedicated staff who is ready to take you through the best English speaking courses. We are equipped with each and everything you require to excel, including highly qualified trainers who are more than ready to help. Enroll with us, and be a part of our team that offers the best English speaking course in East of Kailash.
We use a very unique approach to make sure that you enjoy the English language, as well as the VSL classes. VSL methods have proven to be very effective and it shows in our results, as our students take very short time to learn and advance through various levels of the language. Our approach also makes sure that high-quality learning is maintained throughout the study period, so as to increase the students' performance.
Throughout the course, we help students develop the courage, confidence and intelligence required to develop grammatically. VSL classes are full of knowledge and motivation. We understand that the initial stages of learning can be a bit hard for any student, and so, VSL appoints highly qualified and experienced trainers, who can simplify any hardship a student faces, and turn a beginner into a prolific, in no time. We also encourage student interaction throughout our platform so that they are able to learn from one another.
Moreover, at VSL, you also get to learn a huge chunk of life skills that range from problem-solving to critical thinking, among others. We don't just get you through the basics and leave you there. We make sure you develop mentally, and we empower you with whatever you require, in order to deal with real-life situations confidently.
Please Note: There is No Appointment Fee/ No Registration Fee for the Enquiry. VSL offers Totally FREE Counselling Session with our training experts.
Strategies VSL Uses for Easy Learning
To ensure each and every student gains maximum knowledge, VSL employs strategies that are tested, found very useful, and result-oriented:
1) We start with what the students know, as we build deeper and deeper into what they don't know. This way they are able to have better and fearless conversations, that will make it easier for them to end up with the required language skills. This method removes hesitation and delivers great results in a very short time.
2) We offer interactive sessions where a student is free to ask any question, whenever he/she wants to. This is how we get to know which student wants special attention in which area. This brings everyone at par with each other. It is also a strategy for slow learners, enabling us to advance them according to their level of understanding.
If English is your absolute grey area, which means you cannot speak the language at all, worry not!
3) We will approach you with a technique known as the grammar-translation. This is where we start with your native language, then translate it into English, so that you end up having the best understanding of sentence construction. This will also enable you to remember each and everything you have learnt and its meaning. It is a very crucial method that comes in handy.
4) During the lessons, we deploy common phrases, and we make students repeat them until we are positive that each and every phrase is clearly mastered. This often creates a great learning atmosphere for students, and helps them learn and grasp each and every concept taught to them. It is often the next step or strategy used in training.
These strategies are very important and great tools used in English-speaking classes at VSL. They make learning  easy and enjoyable. We make sure that a supportive climate is created for each and every student, to practice the language and flourish, without any fear whatsoever.
Become a part of our classes to improve your Spoken English, Public Speaking Skills, Writing Skills, Interview Techniques, Personality Development and Much More….
To know the VSL 'Course Content', 'Benefits' and 'Services' in DETAIL :  click here
Our Goal Towards Each and Every Student
It is our solemn goal to make sure that at the end of our English speaking classes in East of Kailash, each and every student has made advancements, as well as the required progress in the language. We make sure every student is given special attention, so that all the areas that students face difficulty in, are well taken care of.
VSL has a curriculum that will make sure each and every student:
Gets to fine-tune his/her language
Gains fluency and confidence in the language
Has command over every skill – reading, writing, speaking & listening
As a student, you won't need to worry about anything in VSL English class. We will cover every weak area of yours, and we will make sure we work with you hand in hand, to develop your language skills. Each and every module and method of VSL training is intended to motivate you, and take you to a higher level of communication and confidence.
VSL unarguably offers the best English-Speaking course in East of Kailash. Enroll with us and get your language abilities heightened, and your comprehension skills taken to a whole new level. VSL empowers you with unique language skills that will propel you ahead throughout your life.